Home page
Please note: This is a personal site about the church that was set up for Bob Davey some years ago. It was last updated in 2010 so some content will out-of-date. For more recent information please visit the official St. Marys website.
---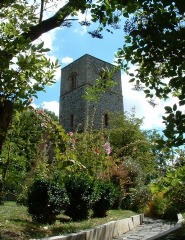 Up the path
You can find the Church of St Mary on top of the hill in Houghton, on the outskirts of North Pickenham near Swaffham. Of the small hamlet once described as Houghton Town, only the church and Houghton Farm remain intact. The last two surviving cottages were demolished in 1994, the remainder of the village is visible only as bumps in the field just to the north of the church.
Built over the remains of a Roman building, the church has stood here for at least 1,000 years. Evidence of a Roman settlement is suggested by the use of Roman bricks in the structure, nearby remains of a villa and its close proximity to Peddars Way.
Abandoned as a church in the second quarter of the 20th century it was rarely used after the 1930's with the last service being held in 1944 (until recently).
On the walls of the nave are many ancient paintings with an image of the Holy Trinity on the east gable.
Recently the font was discovered in a rectory garden, planted up with bulbs, whilst the holy water stoup from the nave was found being used as a bird bath in another local garden.
The church has been featured by TV, radio and the press many times and was visited by Princess Margaret and Prince Charles who enthusiastically climbed the tower. Occasional Christian services are well attended.
The rescue and ongoing preservation of this grade 1 listed building was instigated by Mr Bob Davey of North Pickenham and it is obviously a time-consuming labour of love. The project is now overseen by a steering committee.
Visit Saint Mary's